Episode Length: 35 minutes
The marketing software ReferralHero wouldn't exist if Manuel Frigerio hadn't built his previous startup — one that ultimately failed.
But thanks to Manuel's ability to listen to customers' needs and pivot at the right moment, he built ReferralHero and sold it for 6 figures.
Listen to Manuel's story of how he used each business he built to springboard to his next big opportunity.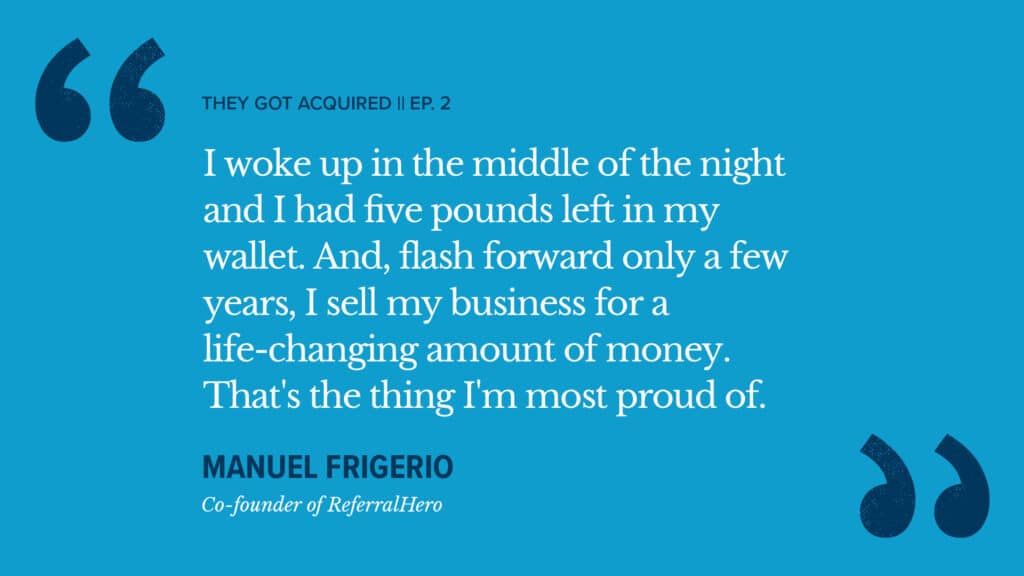 Here's what you'll learn:
[2:07] Why a 6-figure sale was a life-changing sum for Manuel
[4:25] Manuel's first foray into coding and web development
[6:45] How Manuel met his co-founder and the two launched their first startup idea
[7:41] Lessons from Campus Board's struggles and the co-founders' pivot to Event Ninja
[9:14] How Manuel got the support of Eventbrite
[13:30] The inspiration for Manuel's next product, ReferralHero, and its successful Product Hunt launch
[18:08] How Manuel handled ReferralHero's rapid growth
[19:33] Why Manuel underwent a "painful" rebrand
[21:50] How Manuel navigated his co-founder's departure
[25:04] The impetus behind Manuel's transition from ReferralHero to Spark Loop
[26:13] Why Manuel used a broker to sell ReferralHero
[29:50] The terms of the deal and what was important to Manuel
[32:04] Manuel's advice to founders who want to sell their companies
We're so grateful to Manuel for sharing his story and expertise. You can connect with Manuel on Twitter @manuel_frigerio, his website, and his next startup, SparkLoop.
And thanks to our sponsor for this episode, FE International.
Enjoy this episode?
Share it with a friend, and please leave us a review on Spotify or Apple podcasts.
With a podcast as new as ours, every single share and review truly matters.