Episode Length: 35 minutes
The marketing software ReferralHero wouldn't exist if Manuel Frigerio hadn't built his previous startup — one that ultimately failed.
But thanks to Manuel's ability to listen to customers' needs and pivot at the right moment, he built ReferralHero and sold it for 6 figures.
Listen to Manuel's story of how he used each business he built to springboard to his next big opportunity.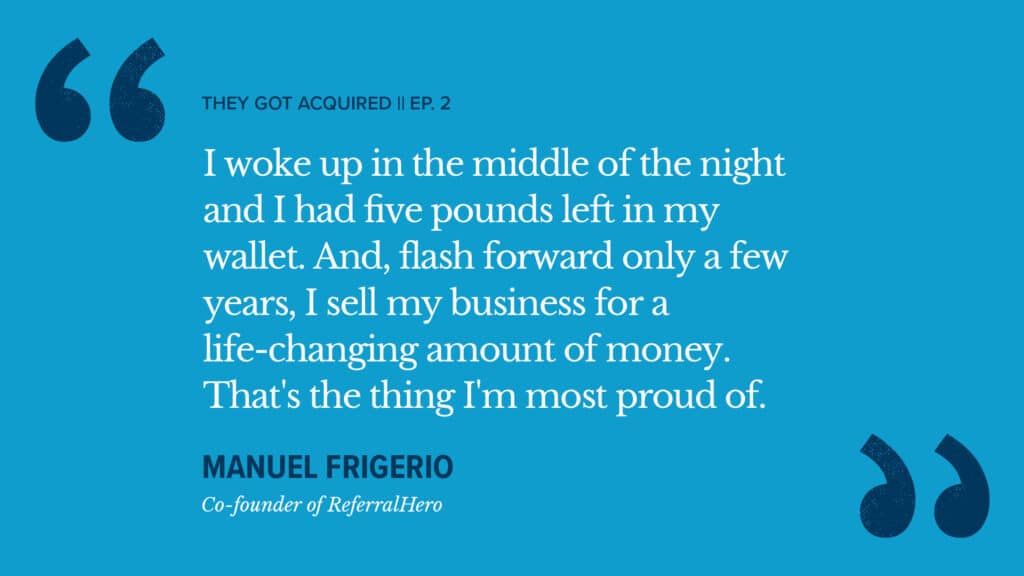 Here's what you'll learn:
[2:07] Why a 6-figure sale was a life-changing sum for Manuel
[4:25] Manuel's first foray into coding and web development
[6:45] How Manuel met his co-founder and the two launched their first startup idea
[7:41] Lessons from Campus Board's struggles and the co-founders' pivot to Event Ninja
[9:14] How Manuel got the support of Eventbrite
[13:30] The inspiration for Manuel's next product, ReferralHero, and its successful Product Hunt launch
[18:08] How Manuel handled ReferralHero's rapid growth
[19:33] Why Manuel underwent a "painful" rebrand
[21:50] How Manuel navigated his co-founder's departure
[25:04] The impetus behind Manuel's transition from ReferralHero to Spark Loop
[26:13] Why Manuel used a broker to sell ReferralHero
[29:50] The terms of the deal and what was important to Manuel
[32:04] Manuel's advice to founders who want to sell their companies
We're so grateful to Manuel for sharing his story and expertise. You can connect with Manuel on Twitter @manuel_frigerio, his website, and his next startup, SparkLoop.
And thanks to our sponsor for this episode, FE International.
Enjoy this episode?
Share it with a friend, and please leave us a review on Spotify or Apple podcasts.
With a podcast as new as ours, every single share and review truly matters.
How Manuel Frigerio sold ReferralHero
For Manuel Frigerio, the "Eureka!" moment that would lead to a six-figure sale came the morning after Christmas in 2015.
He was entrenched in the London startup scene, working on an app concept called Event Ninja. The tool aggregated customer data from ticketing platforms like EventBrite and for event organizers to use in marketing.
The problem: Event organizers didn't really care about the data. What they wanted was to sell more tickets.
Specifically, what event organizers wanted was to create viral waiting lists. They were intrigued by a new mobile-only bank in the UK called Monzo and its referral-based lead generation strategy. The more people a user referred, the higher they'd climb in the queue.
"​​People had a big incentive to refer their friends, and a lot of event organizers wanted to use the same mechanism to sell more tickets," Frigerio told the They Got Acquired podcast.
That morning after Christmas, Frigerio had the idea for a waiting list tool that would become ReferralHero. He spent the next four days building a prototype, then showed it to friends in the event space.
Their response? "How much money do you want?"
Two months later, Frigerio partnered with marketer Kieran Goodacre on the tool that would eventually become ReferralHero. They launched on Product Hunt in 2016 and quickly received 2,000 upvotes. Because Event Ninja was struggling, Frigerio and his co-founder for that project, Anthony Francis, opted to call it quits.
Though ReferralHero was an instant success, it also came with challenges, particularly on the technical side. If a campaign went viral, a customer starting with 10,000 email addresses could hit 500,000 within a few weeks. Handling that level of traffic and data storage quickly became a pain point. The tool's dashboard sometimes went down for days.
"I eventually hired a much better developer than myself to fix these things once and for all," Frigerio said. "But I remember it was a real pain for the first four to six months."
ReferralHero later expanded from a wait-list tool to offer a wide array of referral marketing services. After Goodacre parted ways with ReferralHero, Frigerio automated much of the business, which grew to several hundred customers and mid-six figures of annual recurring revenue (ARR).
But soon Frigerio was focused on his next project: SparkLoop, a newsletter growth platform that evolved out of ReferralHero. As SparkLoop grew, Frigerio and his wife also had their first child on the way. So Frigerio set his sights on selling ReferralHero.
How Frigerio landed a six-figure deal for ReferralHero
Frigerio used brokerage firm FE International to negotiate the six-figure sale in 2021. Serial entrepreneur Lamar Duffy bought the company (though Frigerio did not disclose the buyer). Frigerio received 85% cash upfront and the remaining 15% in installments, he said. He wrote about his experience on his blog.
Frigerio's advice for other entrepreneurs: "If you want to sell your business, you're not selling a business, you're selling a machine," he told They Got Acquired "So you should automate as much as possible. You should either have a person in place or a process in place."
Though Frigerio says the deal didn't land him a "life-changing amount of money," it's brought him financial security for the first time in his life — something that was especially important with a new baby and his wife on maternity leave for at least a year.
"That money, for me, was enough money that I don't feel like worrying about money — not for forever, but probably for a long time," he said.
Since publishing this story, we've obtained additional information and added it to this story. The original version of this story did not name a buyer; we've since identified the buyer as Lamar Duffy. We share more about our reporting process here.