Human Proof Designs, a company that helps entrepreneurs launch online businesses, was acquired by entrepreneur Bryon Brewer in a mid-six-figure deal.
Founded by Dominic Wells in 2013, UK-based Human Proof Designs provides resources and tools for lead generation, affiliate marketing, dropshipping, e-commerce and more.
At the time of the sale in April of 2019, Human Proof Designs had more than 7,000 email subscribers and was generating about $1 million in annual revenue, Wells told They Got Acquired.
"I was in [the company's] way"
Wells bootstrapped the company and grew it with the help of a team of a dozen contractors and a hundred freelancers, he said. But after he started a second business, he realized it might be time to sell Human Proof.
"I was no longer aligned with the business," Wells told us. "It was getting in my way, and I was in its way."
Wells tapped professional M&A advisor FE International to broker the deal. While the acquisition took longer than he expected, Wells ultimately sold Human Proof Designs to entrepreneur Bryon Brewer.
Here's Wells explaining how he sold in a LinkedIn post: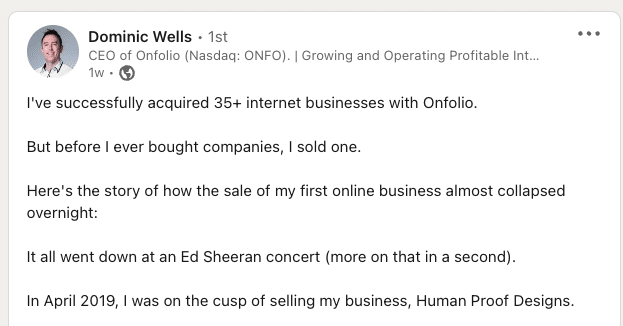 Wells is now the full-time CEO of Onfolio Holdings, a firm that acquires and operates online businesses.
Meanwhile, Brewer told podcast host Nathan Latka in 2020 that Human Proof Designs was earning more than $2 million per year.